The We Care Cabinet was established to provide personal care items to local food pantries based on information received from those food pantries that meet quarterly at our Hunger Summit meetings.  Food pantries indicated that they needed some support for personal care items so that more of their funds could be directed at purchasing food.  
In 2021, instead of housing and then distributing personal care items, the food pantries began receiving gift cards to purchase the items themselves.  Their list of items was also expanded to help serve their clients even more.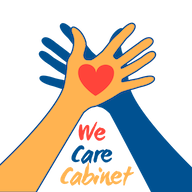 In coordination with B Rock Cares 100.9 and 20/20 Custom Molded Plastics, we hold monthly live drives to collect these personal care items or donations to the We Care Cabinet.  We are grateful for their partnership and for community members who want to help their neighbor by donating to the We Care Cabinet.
Check out our Facebook page to stay up-to-date on upcoming live drives!